Tips for Camouflaging using Softap

There has been a boom in Permanent Makeup and Microblading online courses for many advanced procedures.  While, for working artists, they are helpful as continuous learning, they are not appropriate for some techniques, such as camouflage.  Online courses that do not stipulate the complexity of the treatment may give an inflated sense of confidence to novice artists. These procedures require great precision and supervised practice.
In fact, I have recently received several messages from permanent makeup artists who have had problems after camouflaging. Most of them report that the result is too dark, too light, or unnatural looking. Of course, this is the opposite of what the goal is, which is to conceal a defect.
HOW TO ACHIEVE THE BEST RESULT
First, choose the right color.

When you do a camouflage tattoo treatment, the goal is to ensure the skin defect is naturally disguised.  This is a challenge because there are many skin tones.  If you are serious about camouflage work, you need to have all Softap® flesh tones as well as some browns in your palette because using the right complement of colors is critical for a successful treatment. 
Some of the most popular brown colors for camouflage are Caramel, Bordeaux, and German Chocolate. It does not mean that you will use them all in the same procedure, but it is important to have them available to be prepared.
I recommend using several colors during a camouflage job.

A base color
An enhancer color, and
A neutralizing color
To choose the BASE camouflage color, select the color that you think best matches your client's skin tone, then smear it onto the skin using a dry cotton swab.  Blend it into the skin as though you were trying to rub it off. The right color will be the one that blends in or disappears into the skin. This will be the base color for your camouflage job.
If none of the skin colors you have on hand gives you the exact tone, take the nearest approximate color and mix it with another color until you create the precise tint. Keep careful notes of the proportions you used for subsequent sessions.
The ENHANCER tone is a slightly darker or lighter skin tone than the base shade.
This tone is used if the client's skin has different hues in and around the area to be camouflaged.  No one's skin is the same color/tone/hue all over.
If you are using light skin tones which contain Titanium Dioxide, I recommend using Caramel over it to NEUTRALIZE the titanium. As a tone containing titanium will be a composition of several colors, the titanium will break down last, so it is important to mitigate this with "insurance" by way of a neutralizing color. The neutralizing color is used minimally.
Each color is used separately. Please review the correct camouflage technique for implanting each of these colors. Precise camouflage treatments with good, healed results are accomplished by careful layering.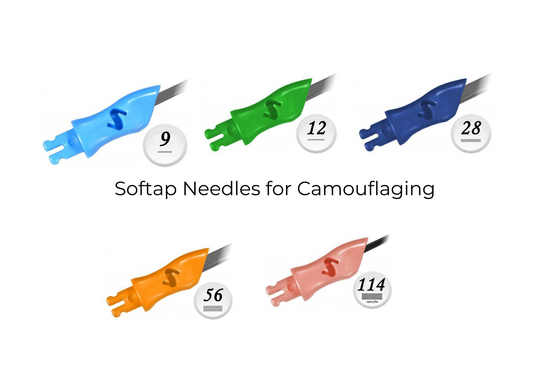 Select the technique.
I know there are many techniques available, even with the machine. Because beautiful camouflage work results from subtlety and softness made to look more airbrushed than a solid mass tone, I prefer using the SofTap® technique.
To achieve the best result, I use the traditional SofTap® technique using straight needles with a cross-crossing effect (three taps in each direction) to achieve an uneven finish.  This is what lends itself to the most natural look. The number of passes depends on the tone you want to achieve. If using Caramel as a neutralizer (only when necessary) I do only one tap in each direction, with a much softer hand than the rest of the work.
To work on scars and stretch marks start by implanting color inside the scar's perimeter and then work your way inward toward the center. Most trainers teach the opposite, but I find that the skin turns pink quickly from irritation.  When working with skin tones, it is difficult to see where the borders are. You do not want to implant color on or outside the border of the scar. Most scars have irregular borders, so if you are using the SofTap® method to implant your color, approach the scar's perimeter with the needles perpendicular, not parallel to the border. Use the tips of the needles in these areas. I like the 28 prong needles for this or the 56 prongs if a larger scar is being covered. This way, you can fill in the nooks and crannies of the border. 
Always remember the importance of avoiding an opaque finish.  You do not want to end up with a stripe of skin tone. Leave some of the natural skin showing through.  Do not try to finish the job in one sitting. It is far better to layer more color at the next visit. 

I recommend avoiding using Minnerva II during the first pass because it blanches the skin, and it can become difficult to see the borders of the area you are working on.
There are so many kinds of scar tissue that it is difficult to tell how much color will be absorbed by the scar.  Due to this, it can be challenging to predict the result, so a small patch test is a must. 
Wait 11-14 days before the actual full treatment so that you can see how the color will look in the scar. Hyper-pigmented scars (which are darker than the surrounding skin) are much more difficult, if not impossible, to camouflage or improve. The most successful kinds of scars to improve upon are hypo-pigmented scars, which are lighter in color than the surrounding skin.
How much to charge?
An excellent way to charge for camouflage work is by the hour. A going rate would be anywhere from $250-$350 per hour.
To end
My main recommendation is to practice on a craft foam sheet.  Once you feel confident, move onto live models until you feel fluid in the treatment.  Check your results one month after you have worked on human skin to be sure you have accomplished the goal, before you promote this procedure in your service set. 
Do not hesitate to contact me if you need advice
I hope this is useful.
Talk soon, 

Dr. Sandra Piedad Cardona 
Email: Info@BuyPermanentMakeup.com  - Phone: +1(510) 423-3014
PS: I created BuyPermanentMakeup.com to make sure that my students and the permanent makeup professional community had the best experience, products and service, along with ongoing education and content.
What people are saying about us...
© Copyright. All rights reserved.