Trucos y consejos para camuflar usando Softap

Ha habido un impresionante auge en nuevos cursos en línea de maquillaje permanente y microblading para muchos procedimientos básicos y avanzados. Si bien, para los artistas que trabajan, son útiles como aprendizaje continuo, no son apropiados para algunas técnicas, como el camuflaje. Los cursos en línea que no estipulan la complejidad del tratamiento pueden dar una sensación de confianza exagerada a los artistas novatos. Estos procedimientos requieren una gran precisión y práctica supervisada.
De hecho, recientemente he recibido varios mensajes de profesionales que han tenido problemas después de camuflar. La mayoría de ellos informa que el resultado es demasiado oscuro, demasiado claro o de apariencia poco natural. Por supuesto, esto es lo contrario al objetivo original, que es ocultar un defecto.
COMO OBTENER EL MEJOR RESULTADO
Primero, elija el color correcto.
Cuando se realiza un tratamiento de camuflaje usando tatuaje o maquillaje permanente, el objetivo es asegurarse de que el defecto de la piel se disfrace de forma natural. Este es un desafío porque hay muchos tonos de piel. Si se toma en serio el trabajo de camuflaje, es importante adquirir todos los tonos de piel Softap®, así como algunos marrones en su paleta, porque usar el complemento correcto de colores es fundamental para un tratamiento exitoso.
Algunos de los colores marrones más populares para el camuflaje son el Caramel, el Bordeaux y el German Chocolate. No significa que los usarás todos en el mismo procedimiento, pero es importante tenerlos disponibles para estar preparado.
Recomiendo usar varios colores durante un trabajo de camuflaje.

Un color base.
Un color potenciador y
Un color neutralizante
Para elegir el color de camuflaje BASE, seleccione el color que crea que mejor se adapta al tono de piel de su cliente, luego frótelo sobre la piel con un hisopo de algodón seco. Mézclelo con la piel esparciendolo y frotandolo. El color correcto será el que se mezcle o desaparezca en la piel. Este será el color base para su trabajo de camuflaje.
Si ninguno de los colores de piel que tiene a mano le da el tono exacto, tome el color aproximado más cercano y mézclalo con otro color hasta que cree el tinte preciso. Anote cuidadosamente las proporciones que utilizó para las sesiones posteriores.
El tono POTENCIADOR es un tono de piel ligeramente más oscuro o más claro que el tono base. Este tono se utiliza si la piel del cliente tiene diferentes tonalidades en y alrededor del área a camuflar. Nadie tiene el mismo color / tono / matiz  en su piel en todas partes.
Si está usando tonos de piel claros que contienen dióxido de titanio, le recomiendo usar Caramel para NEUTRALIZAR el titanio. Como un tono que contiene titanio será una composición de varios colores, el titanio se descompondrá en último lugar, por lo que es importante mitigar esto con un "seguro" mediante un color neutralizante. El color neutralizante se usa mínimamente.
Cada color se usa por separado. Revise la técnica de camuflaje correcta para implantar cada uno de estos colores. Los tratamientos de camuflaje precisos con buenos resultados curados se logran mediante capas cuidadosas.
Sé que hay muchas técnicas disponibles, incluso con la máquina. Debido a que un hermoso trabajo de camuflaje es el resultado de la sutileza y la suavidad que se hace para parecer más retocadas que un tono sólido, prefiero siempre utilizar la técnica SofTap®.
Para lograr el mejor resultado, utilizó la técnica tradicional SofTap® usando agujas rectas con efecto de cruzado (tres golpecitos en cada dirección) para lograr un acabado desigual. Esto es lo que se presta al look más natural. El número de pasadas depende del tono que quieras conseguir. Si utilizo Caramel como neutralizador (solo cuando es necesario) hago solo un golpecito en cada dirección, con una mano mucho más suave que el resto del trabajo.
Para trabajar en cicatrices y estrías, comience implantando color dentro del perímetro de la cicatriz y luego continúe hacia adentro, hacia el centro. La mayoría de los entrenadores enseñan lo contrario, pero encuentro que la piel se vuelve rosa rápidamente debido a la irritación. Cuando se trabaja con tonos de piel, es difícil ver dónde están los bordes. No es deseable implantar color sobre o fuera del borde de la cicatriz. La mayoría de las cicatrices tienen bordes irregulares, por lo que si está utilizando el método SofTap® para implantar su color, acérquese al perímetro de la cicatriz con las agujas perpendiculares, no paralelas al borde. Utilice las puntas de las agujas en estas áreas. Me gustan las agujas de 28 puntas para esto o las de 56 puntas, si se cubre una cicatriz más grande. De esta manera, puede completar los rincones y grietas de la frontera de la cicatriz.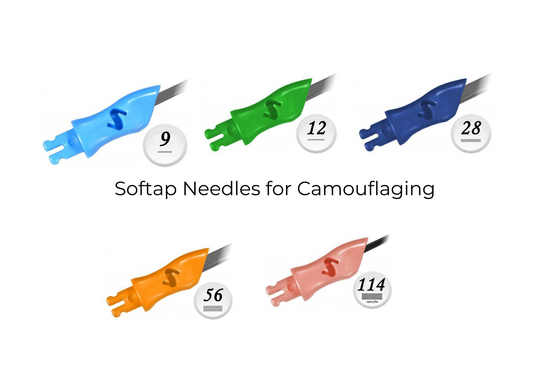 Recuerda siempre la importancia de evitar un acabado opaco. No querrás terminar con una mancha de color piel. Deje que se vea parte de la piel natural. No intente terminar el trabajo de una sola vez. Es mucho mejor aplicar más capas de color en la próxima visita.
Recomiendo evitar el uso de Minnerva II durante la primera pasada porque blanquea la piel y puede resultar difícil ver los bordes del área en la que está trabajando.
Hay tantos tipos de tejido cicatricial que es difícil saber cuánto color absorberá la cicatriz. Debido a esto, predecir el resultado puede ser un desafío, por lo que una pequeña prueba de parche es imprescindible.
Espere de 11 a 14 días antes del tratamiento completo real para que pueda ver cómo se verá el color en la cicatriz. Las cicatrices hiperpigmentadas (que son más oscuras que la piel circundante) son mucho más difíciles, sino imposibles, de camuflar o mejorar. Los tipos de cicatrices más exitosos para mejorar son las cicatrices hipopigmentadas, que son de un color más claro que la piel circundante.
¿Cuánto cobrar?
Una excelente manera de cobrar por el trabajo de camuflaje es por horas. La tarifa actual oscilaría entre $250 y $350 por hora.
Para terminar
Mi principal recomendación es practicar sobre una hoja de espuma artesanal. Una vez que se sienta seguro, pase a modelos en vivo hasta que sienta fluidez en el tratamiento. Verifique sus resultados un mes después de haber trabajado en la piel humana para asegurarse de haber logrado el objetivo, antes de promover este procedimiento en su conjunto de servicios.
No dude en ponerse en contacto conmigo si necesita asesoramiento.
I hope this is useful.
Talk soon, 

Dr. Sandra Piedad Cardona 
Email: Info@BuyPermanentMakeup.com  - Phone: +1(510) 423-3014
PS: I created BuyPermanentMakeup.com to make sure that my students and the permanent makeup professional community had the best experience, products and service, along with ongoing education and content.
What people are saying about us...
© Copyright. All rights reserved.