La diferencia entre un retoque y una corrección
UNA GUÍA PARA PROFESIONALES EN MAQUILLAJE PERMANENTE Y MICROBLADING
En mi experiencia en Permanent Makeup , una de las consultas más comunes es sobre un retoque a clientes, quienes ya se hicieron sus cejas años atrás con otra persona. Cuando la cliente llama a hacer la cita dice: "Es solo un retoque"; pero en muchos casos, no es solo eso.

Un retoque es un procedimiento sencillo cuando el color simplemente se desvanece pero mantiene el tono y la forma no requiere modificación. En esos casos, puedes aplicar  el color cafe directamente.
Ya que el color cambia con el tiempo como un proceso natural, según mi opinión, un retoque significa una "corrección" en la mayoría de los casos.
Durante la consulta es importante establecer que cuando tú estás haciendo un retoque de un trabajo que hizo otra persona no puedes ser 100% responsable del resultado final, pues estarás trabajando sobre una base preexistente.
Cuando ves que tu cliente llega con unas cejas  rojizas, azuladas, grisáceas o violáceas tú no puedes simplemente aplicar un color café encima, pues ese color que traía, aparecerá de nuevo. Por esta razón, debes neutralizarlo antes de aplicar el color café deseado.  Por supuesto, hay casos más complicados en los que también es necesario modificar la forma, pero este es otro tema de conversación.
En términos generales, debes tener en cuenta que se puede neutralizar un color con su color complementario. En la rueda de colores, los colores complementarios son opuestos entre sí:
El verde es complementario del rojo

El naranja es complementario del azul, y

el amarillo es complementario del morado
En maquillaje permanente cuando se mezclan dos tonos complementarios  el resultado es un café y cuando se implanta un color sobre su complementario, lo neutraliza,  llevandolo hacia un café neutro.
Pensando en estas características, la paleta de Color Softap  incluye la colección Correction Aid:

Verde: Lime-Aid

-

Se usa para neutralizar los colores rojizos 

Naranja: Orange-Aid

-

Usado para neutralizar colores azulados o grisáceos

Amarillo: Lemon-Aid

-

Ideal para aquellas cejas violaceas, que tienen varios tonos o cuando se quiere aclarar un tono café oscuro que no ha cambiado su tonalidad.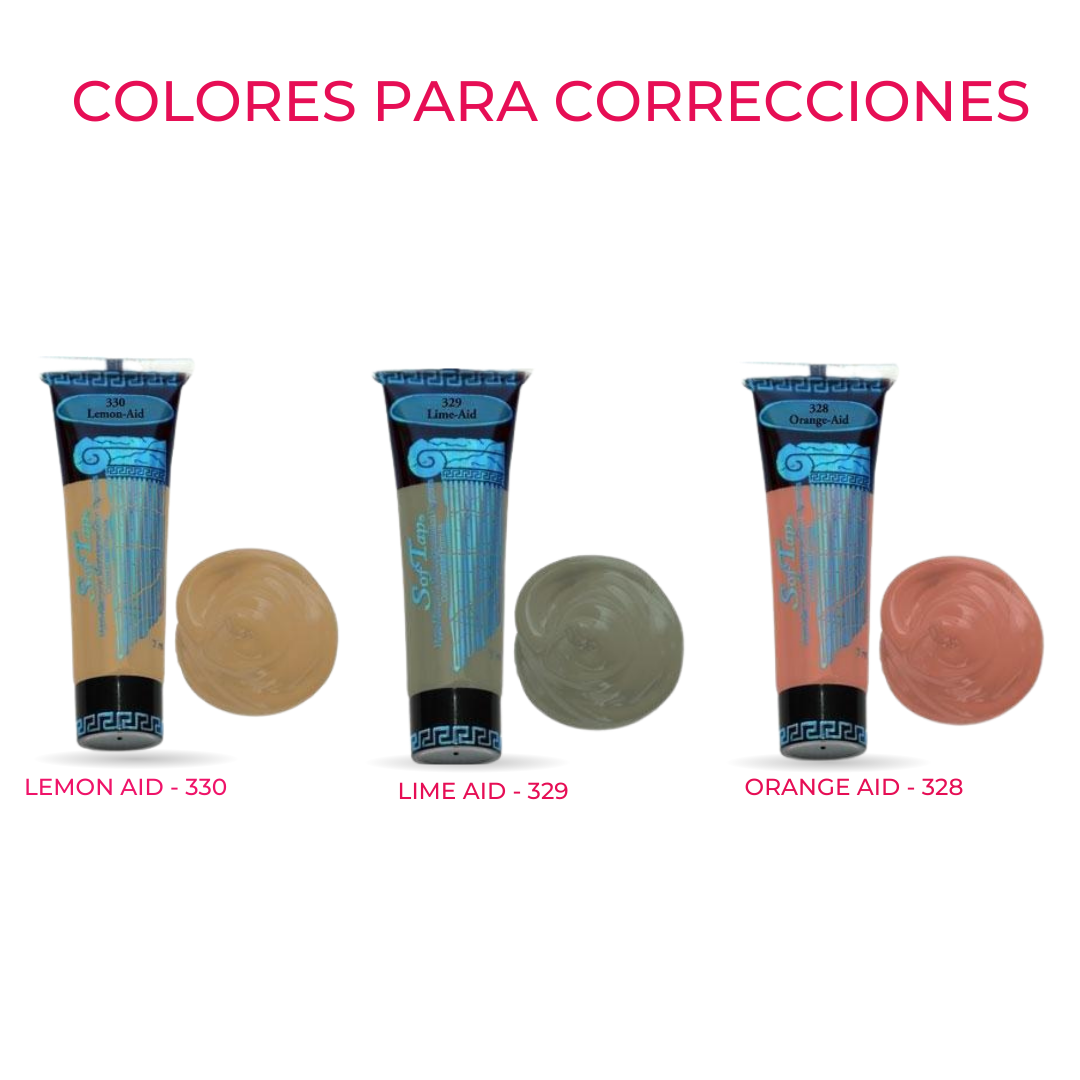 TIPS
Si el color estaba rojizo, después de aplicar el Lime Aid, deberás aplicar un tono neutro o frío claro, mientras que si estaba azulado o grisáceo, deberás aplicar un tono cálido después del Orange Aid, lo mismo que si el color era violáceo.
Si el color es claro, en la misma sesión puedes hacer tanto la neutralización, como la aplicación del color, mientras que si es un tono oscuro o la textura del efecto es sólida, deberás aplicar el color de corrección y en una o dos sesiones más, aplicaras el tono que desees.
Debes esperar 3-4 semanas entre cada sesión.
La técnica que se debe utilizar para neutralizar es la técnica tradicional de Softap de toques usando agujas Softap y no microblading.
Si tu cliente necesita modificar la forma, ese es un tema de corrección para un experto, si tu eres experto, adelante!, pero si NO tienes el conocimiento, te recomiendo que NO te comprometas a hacer el trabajo, pues  si no obtienes el resultado que tu cliente espera, vas terminar haciendo varias sesiones gratis.
No intentes hacer una corrección y el procedimiento final en una sola sesión. El resultado puede ser un desastre.
Si tu cliente quiere viene para un retoque, tiene  sus cejas sombreadas y  ahora quiere que se vean vellitos individuales y vas a hacer Microblading, deberás establecer muy bien las expectativas de tu cliente ya que se van a necesitar varias sesiones para lograr este efecto.
Si no corriges el color previo antes de hacer microblading, ese color va a sobresalir nuevamente generando un efecto que no se ve natural como el que se ve en la fotografía.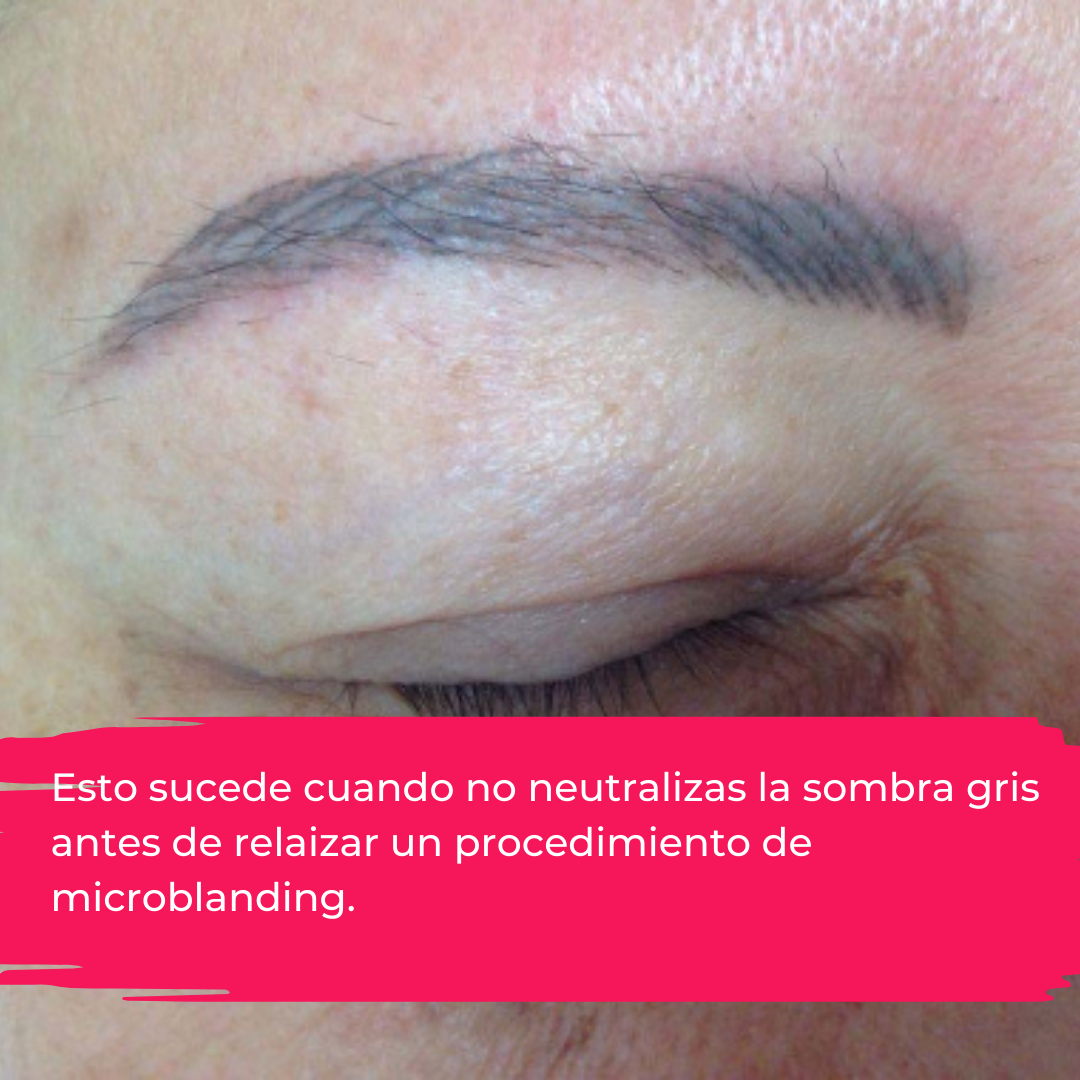 La próxima vez que recibas una llamada de uno de tus clientes solicitando un retoque, recuerde dos cosas:
No des un precio antes de una evaluación presencial.

Piensa que tendrás que hacer más de lo que imaginaste.
I hope you will take this into consideration. 
Dr. Sandra Piedad Cardona 
Email: Info@BuyPermanentMakeup.com  - 
Phone:
+1(510) 423-3014
PS:
I created BuyPermanentMakeup.com to make sure that my students and the permanent makeup professional community had the best experience, products and service, along with ongoing education and content.
Que dicen nuestros clientes acerca de nosotros..
RECIBE NUESTRO BOLETIN DE NOTICIAS!
© Copyright. All rights reserved.