Designing individual hair strokes with a natural effect

Techniques and Styles in Permanent Makeup have been in constant evolution. Since I started with Permanent Makeup in 1994, I have seen many trends, but nothing comes close to what we now call Microblading. 
Softap is always at the forefront of the most natural techniques and applications for permanent makeup. That is why they designed the GenuLine needles, to perform  Microblading.
The tips designed for this effect are very fine and deposit the pigment evenly to obtain very well-defined hairs
This is an accurate method
The needles are flexible enough not to hurt the skin and, at the same time, strong enough to deposit the pigment with a long-lasting effect
Various sizes of needles to use depending on the size of the eyebrows
100% disposable and pre-sterilized
This technique focuses on the design of individual hairs, which has the potential to create natural and beautiful-looking eyebrows.  Microblading allows us to design and trace the hairs in an easy way, simulating the direction of natural hair.
When I do individual hair strokes using the Microblading technique, I keep in mind the needles I need to use, the eyebrow design, and the right color. This combination guarantees me that I will have the best possible result. 
The needles I use for Microblading: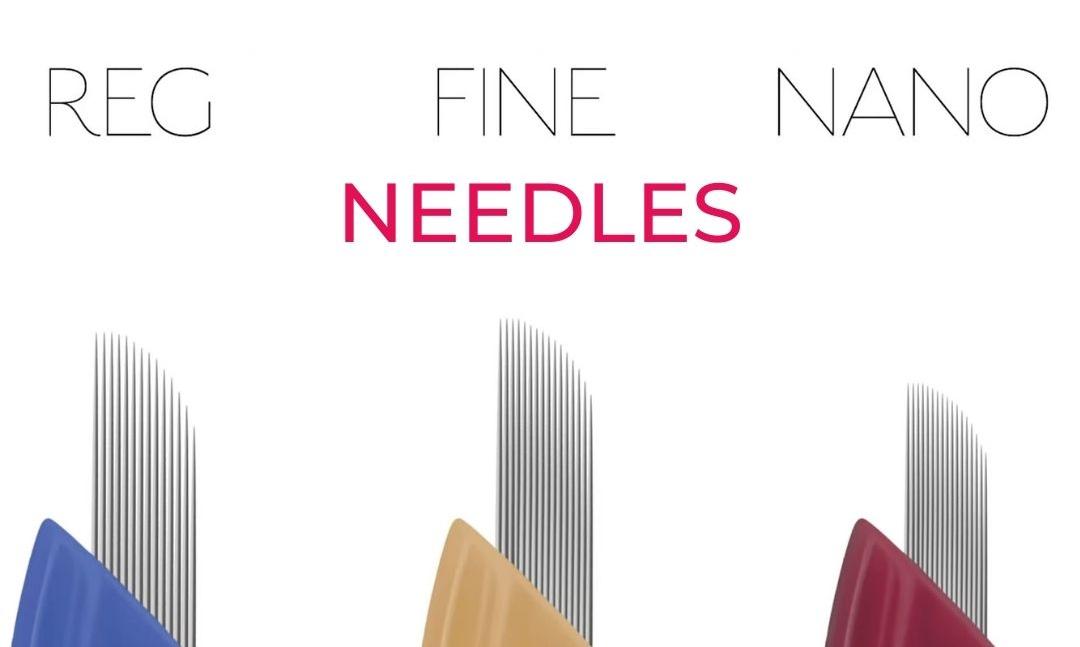 Since the hairs of the eyebrows have several sizes and diameters, for me it is important to have different needles at hand. Softap needles for Microblading are:
The perfect combination to achieve the most natural effect in permanent makeup. 
How I design eyebrows with the Microblading technique: 
The main characteristic of this effect is that it looks natural. For people who do not have hairs on their eyebrows I use the microblading technique with 6 tips to make the individual hairs, and then I do a soft shading with 14 curved needles with the Softap technique to give greater volume and definition to her eyebrows.
When my client has little hair in the tail of her eyebrows and wants to lengthen them, I take into account the direction of the hairs, designing them towards the side or slightly upwards, to give greater expression to her face. 
When she simply wants to fill her eyebrows to give greater volume, I follow the natural direction of her hair, doing an exact mimic to achieve greater naturalness. 
The colors I use for Microblading: 

With softap colors I can achieve the naturalness that I want when I perform this technique. I choose the color that most resembles the natural eyebrow of my client.
For skin type 1 people with green eyes, light skin, reddish hair, and eyebrows use a warm color like Caramel, Milk Chocolate, Bordeaux including in some cases Cocoa or Copper.
If she is skin type 2 with blue eyes, blond hair, blond eyebrows, and light skin, I use neutral colors like Bashful Blonde, Hazelnut, Fawn, or cold colors like Champagne or Mink. 
For people with skin type 3, with honey or light brown eyes, light skin, dark blond hair, and eyebrows, I use Fawn, Cappuccino, or Brown Sugar. 
For skin type 4 people, with dark skin, brown eyes, hair, and dark brown eyebrows I usually use Earth blended with Chocolate Eclair or Expresso blended with Chocolate Eclair. 
For people with skin types 5 and 6 with darker skin, black eyes, hair, and black eyebrows I usually use Mahogany.
I hope what I do will inspire you for your next Microblading procedure.
Dr. Sandra Piedad Cardona 
Email: Info@BuyPermanentMakeup.com    
Phone: 
+1(510) 423-3014
PS: I created BuyPermanentMakeup.com to make sure that my students and the permanent makeup professional community had the best experience, products and service, along with ongoing education and content.